Contents:
–Democratic Slate 2020
–Democratic Accomplishments
–Questions about Voter Registration and Vote Submission, and Yard Signs FAQS
–5 Slides on How to Vote by Mail from ODP
Link to check status of your absentee ballot
Link to Knox County Board of Elections new website
Link to ODP Vote by Mail guide

_____________________________________________________________________

November Democratic Slate for Knox County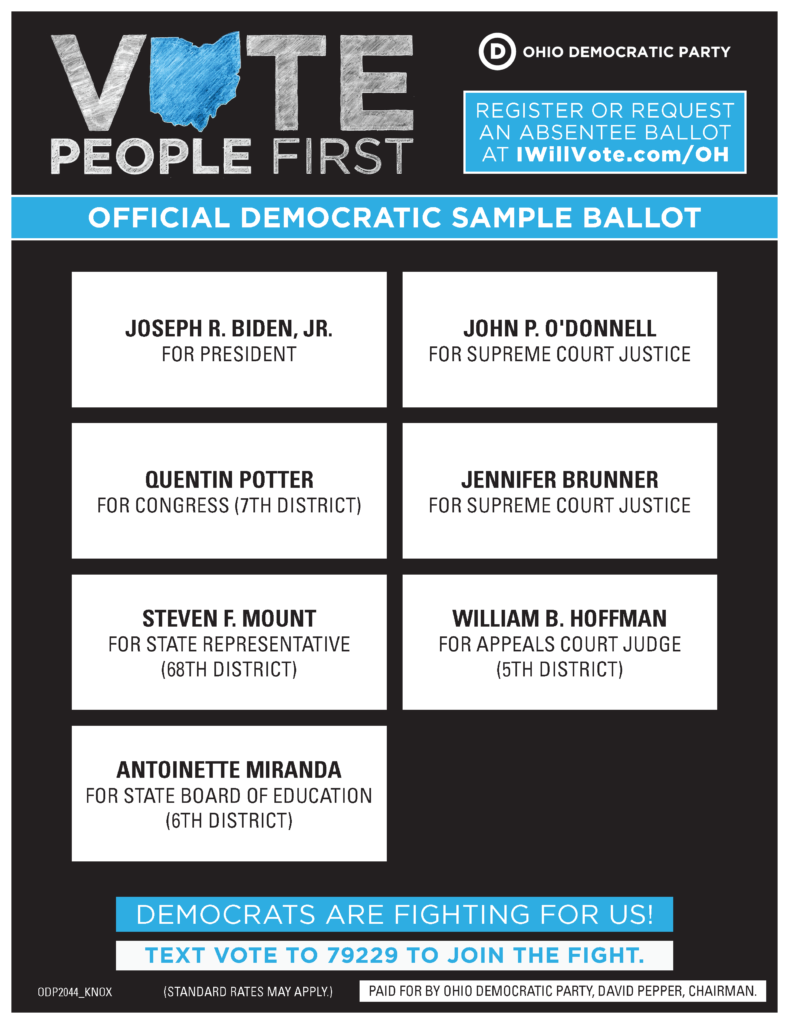 Democratic Accomplishments
—History of prominent achievements
–Some of the Benefits and Programs Brought to You by the Democratic Party:
19th Amendment – Women's Right to Vote.
Apollo 11 – First manned moon mission.
Social Security – Social Insurance Program.
Medicare – Health insurance for seniors.
NATO – North Atlantic Treaty Organization, a political and military alliance between the US, Canada and Europe.
Medicaid – Health program for low income people.
Securities and Exchange Act Law – governing the secondary trading of securities.
Rural Electrification Act – Federal loans for the installation of electricity to serve rural areas.
Peace Corps – American volunteers promoting peace and friendship around the world.Unemployment Benefits – Payment to the unemployed.
Fair Labor Standards Act – End of child labor.
Servicemen's Readjustment Act – Benefits for Returning GIs, The GI Bill.
Federal Home Loan Program – Allows lower income Americans to borrow money for the purchase of a home.National Industrial Recovery Act – 8 hour day, minimum wage, paid overtime and right to collective bargaining
National School Lunch Act – Free or low cost meals for children.
Voting Rights Act – Prohibits voting discrimination.National Foundation for Infantile Paralysis – Forerunner of the March of Dimes.
Head Start Program – Comprehensive services for low income families.
Civil Rights Act – Prohibits discrimination.
Marshall Plan European Recovery Act – post WWII rebuilding of Europe.
Financial Aid for Higher Education Loans – Guaranteed student loan.Family and Medical Leave Act – Provide employees job protected unpaid leave for qualified medical and family reasons.
Lilly Ledbetter Fair Pay Act – Overrode the Supreme Court's limitation of employee rights.
Patient Protection and Affordable Care Act – Health care reform.

You've got questions? We've got answers.
We've been getting lots of calls and emails for information on everything from how to vote to where to pick up a Biden sign.
This is your guide for Voting info. Go to Menu item Signs and Such for picking up Biden/Harris signs.
___________________________________________________
Am I registered to vote?
How do I register to vote?
You can register to Vote in Ohio or update your voter registration address online at https://olvr.ohiosos.gov/
To register online you will need to provide the following:
Ohio driver's license or Ohio identification card number (available from the Department of Motor Vehicles).
Name
Date of Birth
Address
Last four digits of your Social Security number
Once you complete this form, you must sign and send it to the BOE below:
Knox County Board of Elections
104 East Sugar St.
Mount Vernon, OH 43050
What are my vote submission options?
ALL Ohio voters whose registration information is up-to-date have the opportunity to vote in any election from the convenience of their own homes by requesting an absentee ballot.
Options include:

In-person voting at your assigned polling place on November 3, 2020
Absentee voting
Early in-person voting
I am interested in early in-person voting. How do I do that?
Starting October 6, 2020, you can go to your county board of elections or early voting center as designated by the county.
There, your voting experience will be exactly or very similar to voting on election day.
I am hearing a lot about absentee voting. What is that?
Absentee voting and mail-in voting are the same thing!
Absentee voting has many benefits.

You can vote early
It is convenient and SAFE
It reduces the chance of lines at the polls on Election Day, and
Absentee ballots are the first votes counted on Election Night.
I am interested in absentee voting. How do I do that?
October 31, 2020, is the deadline to request absentee ballot (do this ASAP)
STEPS TO REQUEST AND VOTE AN ABSENTEE BALLOT
Complete the absentee ballot request form*
Once you have completed your application by providing all of the required information, print and sign it.
Mail the request form back to your own county board of elections.
Wait to receive your ballot in the mail from your county board of elections.
If you have questions about your absentee ballot request, you should call your county board of elections or you can track the status of your ballot request as well as your voted absentee ballot through the Voter Toolkit.
Return your voted ballot.
You can send it by U.S. Mail or deliver it in person to your county board of elections
The return envelope containing your marked ballot must either be received by your county board of elections prior to the close of the polls on November 3, 2020, or postmarked no later than November 2, 2020, and received by the board of elections no later than November 13, 2020.
To make sure your absentee ballot is counted, it must be received by your board of elections by 7:30 p.m. on November 3, 2020, OR be postmarked by November 2, 2020.
The U.S. Postal Service (USPS) estimates that it may take two to five days for your voted absentee ballot to be delivered to your board of elections by mail.
If you are returning your voted ballot during the week before Election Day, you should take it to USPS no later than the November 2, 2020, and ensure it receives a postmark as follows:
If you use a postage label purchased at a USPS customer service window or vending machine, the date on the label is the postmark. This is the USPS-recommended way to postmark your ballot.
If you use postage stamps, ask that it be postmarked.
___________________________________
 
  November Democratic Slate for Knox County