Last December, Democrats in Ohio's 7th Congressional District were despondent. The incumbent Republican, U.S. Representative Bob Gibbs, was running unopposed for his re-election bid in 2020. But then, a Democrat from Stark County woke up one morning and decided this prospect was unacceptable. He filed a petition to become the write-in candidate for the Democratic primary ballot. He may not think he's heroic but we do.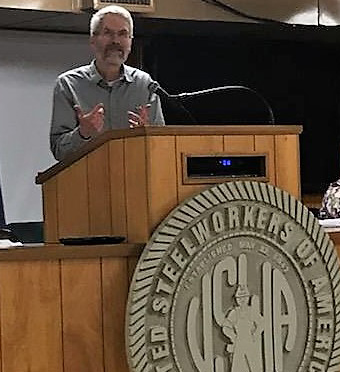 Who is the mystery write-in man? Quentin Potter. We're happy to share that he's eminently qualified, personable, and very much worth the effort to pen in his name on your ballot this March.
According to his biography, which we excerpt here from his Facebook page:

Born in Columbus, Ohio, Quentin has lived in the 7th District since 2011, when he was named Vice President and Treasurer at Lorain County Community College and moved to Avon. In 2014, he and his wife, who was born in Canton and grew up in Marlboro Township, relocated to the area to assist in caring for her mother. Although officially retired after almost 30 years in Ohio's public sector, Quentin continued to work at the request of the Ohio Office of Budget and Management as the director's representative on several financial oversight commissions in northeast Ohio. In this role, Quentin brought his financial leadership experience to assist communities and school districts resolve financial issues.

Quentin's background includes not only executive experience; as a young man, he worked with UPS (as a member of the Teamsters) and managed a full service gas station for several years before returning to college and earning his Bachelor's Degree in Education. He knows from personal experience the value of higher education, putting himself through school via jobs in retail and sales.

Quentin carries with him the independence and perseverance characteristic of many with Appalachian heritage. His parents were both from Eastern Kentucky, where several generations of Potters lived and worked, and, as a boy, Quentin spent time each summer at his grandmother's small farm in the hills. His public service furthered an inherent understanding of the disparate circumstances facing Americans and an appreciation for the role of a well-run government in addressing people's needs and creating opportunities.

In 1996, Quentin married Cynthia Burnell at Werner's United Methodist Church in Stark County, the same church where Cynthia's parents married 50 years earlier. They currently live in Plain Township with their 2 cats and spend time almost every day walking (Cynthia) and running (Quentin) on the nearby Stark Park trails. Quentin is a committed runner, having completed 13 marathons. He plans to incorporate his running into his campaign by finding local races throughout the district as a way to get to know communities and voters more directly.

About, Quentin Potter
At our January meeting, attended by Quentin, KCDP voted to endorse his candidacy, as well as that of Steve Mount, who is running for Ohio House (more on Steve soon).
Never written-in a candidate on your ballot before? Neither have we! But it is super easy. To vote for a write‐in candidate: completely darken the oval () to the left of the blank line and write in the candidate's name. See example below:
Bookmark this page so you can remember how to write in Quentin Potter. Let's show Rep. Bob Gibbs that we're not just rolling over and letting him win. Vote Quentin: write him in!