The Center for the Study of American Democracy, CSAD at Kenyon College has prepared a non-partisan voting guide for this Nov. 2 election.  It is well organized, well-formatted, and well-informed to make finding information about State and local issues, levies, and election races. It is 32 pages in pdf
There are some write-in candidates.  A simple guide to How to vote for write-ins and How to view a sample ballot is provided below. 
 download at this link.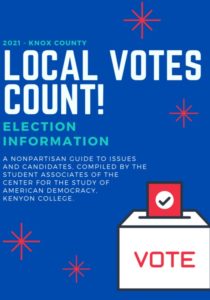 View your local ballot  click here
How to vote for a write-in candidate in Ohio
Can I write any person I want to vote for on my ballot and will that vote be counted?
All write-in candidates in Ohio must submit a form announcing their intention to be a write-in candidate to their Board of Elections before the deadline for such submissions.   If your candidate has not submitted the correct form to the Board of Elections and done so before the deadline for submissions, your write-in vote will not be counted. 
How do I know who has submitted a form and is considered a write-in candidate on my ballot?  How do I spell the candidate's name correctly?
When you sign in to receive your ballot, you can ask the poll workers give you a list of write-in candidates for that ballot. 
How do I write-in a candidate's name on the ballot?
You must use a paper ballot.  When you get to the section of the ballot where you can vote for candidates running for that position, you will automatically see the candidates who are already on the ballot for that office.  You will see a space (empty oval) next to those candidates' names and you must mark (darken, or place an X) in that oval in order to place a vote for any of those candidates.
Below the names already on the ballot will be spaces on which to write-in a candidate.  You will see a blank oval and then an empty line to the right of that oval.  You must darken in or place an X in that oval and then write in the correct name of the write-in candidate for whom you wish to vote.  Remember, you must both (1) mark the oval and (2) write-in the candidate's name correctly for your vote to be counted for that candidate.   
If you have any questions, the poll workers can answer questions and help you with this process.