January 20, 2021
KCDP Inauguration Joy video
___________________________________________________________________________
We interviewed 14 different Knox County citizens with a variety of backgrounds and perspectives who support Biden/Harris.  They will be posted here between now and the Nov 3 election. 
Thanks especially to Dan Laskin, Janet Byrne-Smith, Katy Ratliffe, Drew Perry-McKay, and Meg Galipault for  bringing these videos to fruition (as well as our editing volunteer, Jay, from Nevada!).
Residents of Knox County speak about why they are voting Democratic in this 2020 election and what it means to be a Democrat in rural Ohio.  We are your neighbors and friends!
______________________________________________________
Nov2, 2020
Jami I., has a small business in Knox County and sells her products through several shops in Mount Vernon. She has a 22-year-old biracial daughter, as well as an 8-year-old son.
Nov 1, 2020
Becky C., Knox County resident almost her entire life. Raised as Christian and being a Christian is an important part of who she is.
Oct 22, 2020
Brandy, lost her job during our Covid pandemic.
Oct 18, 2020
Bob B, Republican
Has lived in area 17 years; is a life coach and project manager.
Oct 17, 2020
Bruce Jacklin, Army Veteran, theater.film actor, community leader
Oct 16, 2020
Mary Rugola Dye, retired public school teacher
Oct 14, 2020
Cody Donaldson
Knox County resident 40 yrs
Oct 13, 2020
Kate A, nurse
Kate's family runs a dairy farm and she works as a nurse in Knox County, Ohio.
Oct 13, 2020
Pat Keane, nurse

Oct 24, 2020


Charlie O.,retired elementary school teacher, 35-year Knox County resident

"You want a president who can bring us together, a president who tells the truth, who doesn't put himself before everyone else. We need to work together as a nation on issues like the economy, race, and education. Instead, we're running away from our problems, because the Trump administration has created an atmosphere of fear and distrust – not trusting each other, not trusting our government institutions, not trusting the press. Even if you disagree with a president, he or she should be somebody that you can trust. We don't have that right now."


Oct 20, 2020


Jami I., has a small business in Knox County and sells her products through several shops in Mount Vernon. She has a 22-year-old biracial daughter, as well as an 8-year-old son.

"The Trump administration failed our country in this pandemic in every way, at every level. I can't help but wonder how many more people would be alive if he had worn a mask from the beginning. We've already seen a wave of closures. I think we're going to see another wave of small-business closures. We've got to have another stimulus. So many businesses are teetering on the edge; so many families are teetering on the edge. We've got to help people out and not just let them sink. This is an historic situation, and our country needs to do historic things to meet the moment, instead of letting people die, letting businesses fold, letting people be evicted and go bankrupt.
We should be better than that, and I know that Biden and Harris will be better than that. They've already shown great leadership. I feel like Biden is already basically the leader. He is the one saying calm things and hopeful things, and trying to bring people together. I know that he and Harris are serious and will actually try to solve these problems, instead of going on Fox News and blathering for hours. Just to have functioning adults in the White House will seem like heaven.
We've got to come together and work honestly on issues of racial injustice. We desperately need some healing and some justice. It's amazing how personally hurtful it is for Black people to have the leader of our country rile up and encourage the racists and white supremacists. The racists and white supremacists have crawled out from under their rocks. But we are more than them. They're a minority; they're just loud. I really look forward to having leadership that reflects that we are the majority, we who want kindness and love and justice for everyone."

Oct 19, 2020


Linda D., Knox County resident for 25 years. Public service runs in her family. Before retiring, she worked in various capacities with families and children in need of counseling or other services. She has a son who is 23-year-veteran police officer.
"I don't think President Trump has a law-and-order policy. I haven't heard anything from him that is significant in what he would do. What I hear is very divisive in how he uses his language. Language is important, and it's powerful. And he consistently divides the country with his name-calling; at times he has encouraged violence. It's a very divisive message, and it's based on his willingness to use fear as a tactic and ignoring the issues that affect us all.
As the mom of a law enforcement officer, I really fear that the way that President Trump is encouraging aggression is dangerous, especially for those who are putting their lives on the line every day. They are peace officers. That's how they're trained. And they deserve our respect. By encouraging violence, he puts our officers more at risk. Many of our police officers are compassionate; that's why they went into this role. But that's not a side of them that's being encouraged.
One of the proposals that the Biden-Harris campaign is suggesting is putting more funding into mental health services. I don't think any of us can argue with the need for that. I don't think President Trump even understands the need for that. Biden and Harris will help keep our officers, and all of us, safer. We need our police, but Biden and Harris are talking about using some funding to better our communities with mental health services. That's the right way to go.
We need a leader who is capable of listening to all of us, and listening to the experts. There are a lot of really bright experts in law enforcement, who are talking about the right kind of training and the right kind of policing, the right kind of support for our police. We need a leader who is capable of hearing all opinions and willing to listen to the wisdom of experts.
I know Joe Biden would be that kind of a leader. He's already that kind of a leader. He listens. He pays attention. He engages with people. He apologizes when he's made a mistake. He understands what being a hero means. He has lived a very genuine life. And he chose a good running mate. Not only does she have the experience, but she also is someone who will bring the opportunity to address systemic racism, and the realization that it's not just one institution, it's not just the police, it's all of us. We have an opportunity, now, to learn from it, grow from it, move forward, and look at justice for all, and equality in this country, which is what we all want.
Biden listens to experts. Scientific American has endorsed him. They haven't endorsed a candidate for president in 175 years. And the reason they're endorsing him is because he listens to experts, and we don't have that currently in our president."

Oct 18, 2020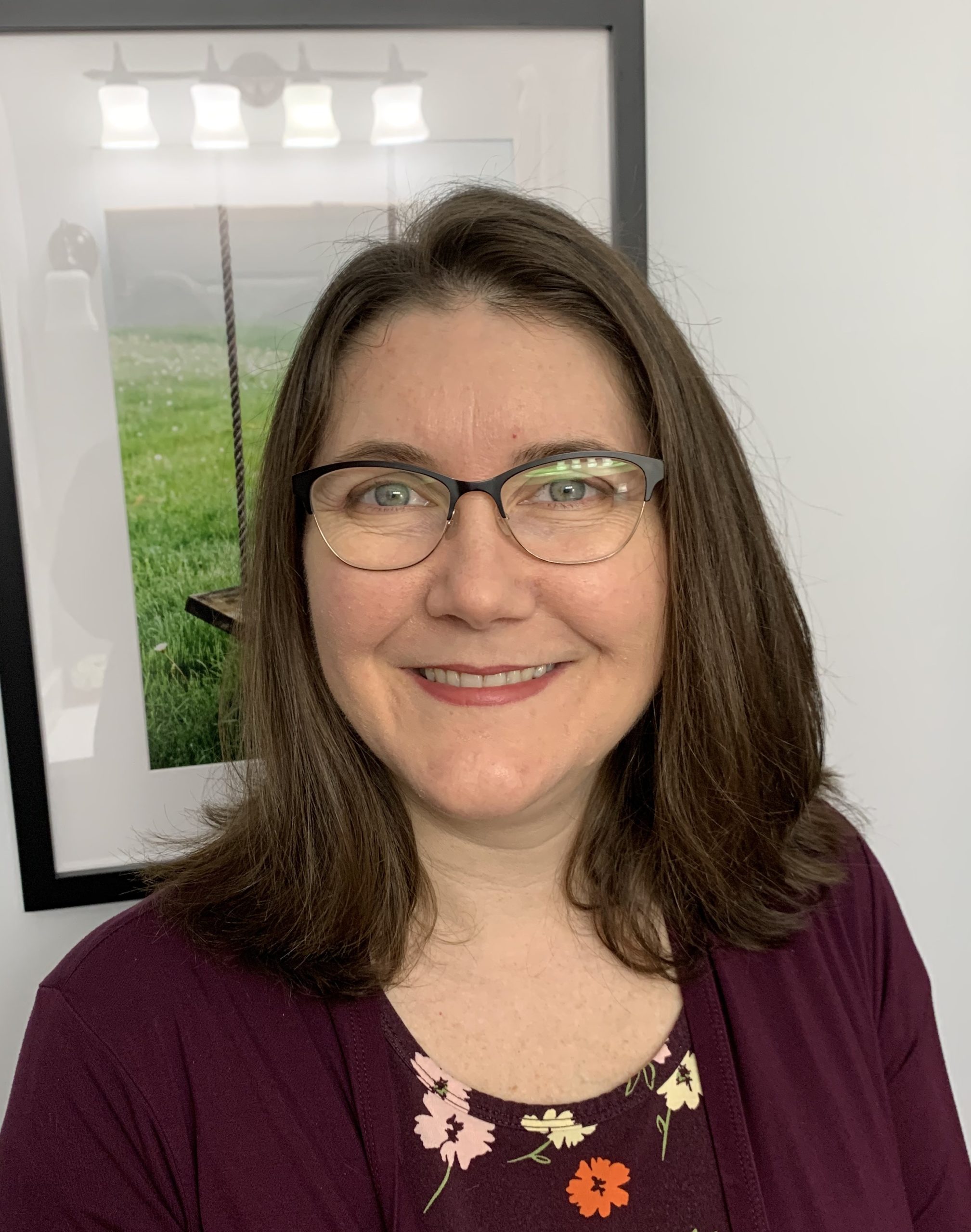 Becky C., Knox County resident almost her entire life. Raised as Christian
and being a Christian is an important part of who she is.
"To me, having Christian values means trying to be the best person I can be. It means caring about others. It means trying to be more Christ-like. It means loving your neighbor. And when I am trying to think about who I want to vote for, I want to make sure that I am selecting a leader that would truly align with those values.
I'm voting for Joe Biden. There is no question that Joe Biden's policies are aligning with my Christian values. The policies that he is supporting are things like making sure that we are taking care of our environment, making sure that we have health care for everybody. I also think about not only policy but who is this individual who I'm going to vote for. And Joe Biden is the kind of person who really does care about other people.
I definitely could not vote for Trump. I know that some people say that they can overlook some of his flaws, because they think that he aligns with some other things that they appreciate. I cannot overlook the fact that he lies, that he says terrible things about other people, that he talks poorly about the military. I can't overlook it. I cannot vote for someone who lies so much and who does not care about other people in our country.

As a Christian, I am Pro-Choice. Some of my fellow Christians may say, how can I vote for somebody who is pro-choice? That's a very easy thing for me to answer. First, I think that Biden and other Democrats try to do the best thing they can to make sure that women don't have to choose abortion. They try to do things like making sure there's affordable birth control, making sure that we actually have education out there. We don't want people to have to have abortions, but it's not up to me to decide if somebody needs to have an abortion. We need to be able to trust women to be able to make decisions for themselves and their lives. I cannot judge what situation somebody is in. I don't know somebody's health care situation. I don't know all the troubles that they're having. And so it's not up to me to tell them what to do with their life. I think it's very important to give women a choice. I am pro-choice. I'm a pro-choice Christian.".

Oct 15, 2020


Miriam, retiree and Knox County resident for 36 years; raised two children here with her husband.
"President Trump's failures start with a lack of integrity. It's been four years of never being told the truth about anything. I believe that both Biden and Harris are trustworthy. That's a key issue for me. I think they both have empathy. Biden expresses that frequently; it comes from his personal loss but also from his upbringing. He knows what it's like to live with less. And I think that's an important characteristic of somebody who's leading a country which has this great divide, with billionaires at the top and millions of very, very poor people.
ALSO:
I'm supporting Biden and Harris because they have records of public service and experience in governing. We don't have that right now. We have a failed businessman who thinks you can run a country on the model of running a business. We've got good evidence that this doesn't work. Biden and Harris will turn to scientific experts for advice on the pandemic, and they will turn to science to address global warming and environmental issues."


Oct 7, 2020


Pat, a long-time Knox County resident, who is a devout Christian, mother, grandmother and great grandmother.
"A Christian is to be truthful and to be kind and show kindness to others and love, and Donald Trump does not do any of those things … He is so rude and he is not the kind of person to be in leadership. He doesn't act intelligent. He's just rude and crude, and I just don't care for that type of person, and I cannot hardly wait until he gets out of there. … Joe Biden is a man with a heart, and he has a good head on his shoulders. He's a compassionate man, and I think he's experienced, and up to doing the job … He has shown that he has faith. He's a Catholic man, and he seems to have a lot of faith that's gotten him through these years. And I don't think it's just for show! Like Trump walked across the street with the Bible upside down to make a show, and Biden would never do that. I think Biden lives what he says he is … Trump has not had any time to do anything for the country. He watches TV constantly. I don't want a president who is always tweeting every time he has a hissy fit."

Sept 23, 2020


Peter Michaels: Republican, Cooper/Rolls Royce retiree and longtime resident of College Township; interview with Dan Laskin
"I've always been a registered Republican, but the way the Republican Party has gone, I'm not a fan.
Trump to me is not a leader. He's not a person I admire. I don't think he's done anything. It's all about himself – it has nothing to do with the country or the people, or helping us. I think Biden and Harris would do a better job. They pay attention to issues. They work with people; they listen to people. They understand how things work, and they respect our system of government.
Trump's approach to the pandemic has been to ignore it and hope it will go away. And he's been proven wrong, It's important to do something about the pandemic, instead of holding rallies with no masks.
The economy is in a lot of trouble, with serious unemployment and a lot of businesses, including small businesses, closing. And Trump doesn't understand the economy. All he looks at is the stock market.
I'm approximately the same age as Trump. I got drafted and went into the service. I was sent to Vietnam. I spent a year in Vietnam. Trump just basically used his father's contacts to get out of the draft. He doesn't respect the military.
Another issue is the Senate. The Democrats need to take the Senate back. Under Mitch McConnell, the Republican Senate stonewalled Obama's final four years. They did everything they could to keep him from accomplishing anything. And they're just rolling over and letting Trump to all sorts of stuff that I don't think is good governance.
With Biden we have a chance to correct the issues and make some progress. I don't see us making any progress with the current administration."