Contents:
–Democratic Slate 2020
–Democratic Accomplishments
–Questions about Vote Submission, FAQS
–Where to drop your absentee ballot in Knox County
–5 Slides on How to Vote by Mail from ODP
Link to check status of your absentee ballot
Link to Knox County Board of Elections new website
Link to ODP Vote by Mail guide

TUESDAY Nov 3: Precinct Voting 6:30am-7:30pm
IF YOU NEED ASSISTANCE OR HAVE TROUBLE AT THE POLLS, CALL
844-OH-I-VOTE (844-644-8683).

Early Voting times are as follows:
| | |
| --- | --- |
| October 6 – 9 | 8:00 a.m. – 5:00 p.m. |
| October 12 – 16 | 8:00 a.m. – 5:00 p.m. |
| Ocotber 19 – 23 | 8:00 a.m. – 6:00 p.m. |
| October 24 | 8:00 a.m. – 4:00 p.m. |
| October 25 | 1:00 p.m. – 5:00 p.m. |
| October 26 – 30 | 8:00 a.m. – 7:00 p.m. |
| October 31 | 8:00 a.m. – 4:00 p.m. |

TUESDAY NOV 3–LAST DAY TO VOTE at your precinct; wear a mask
_____________________________________________________________________

November Democratic Slate for Knox County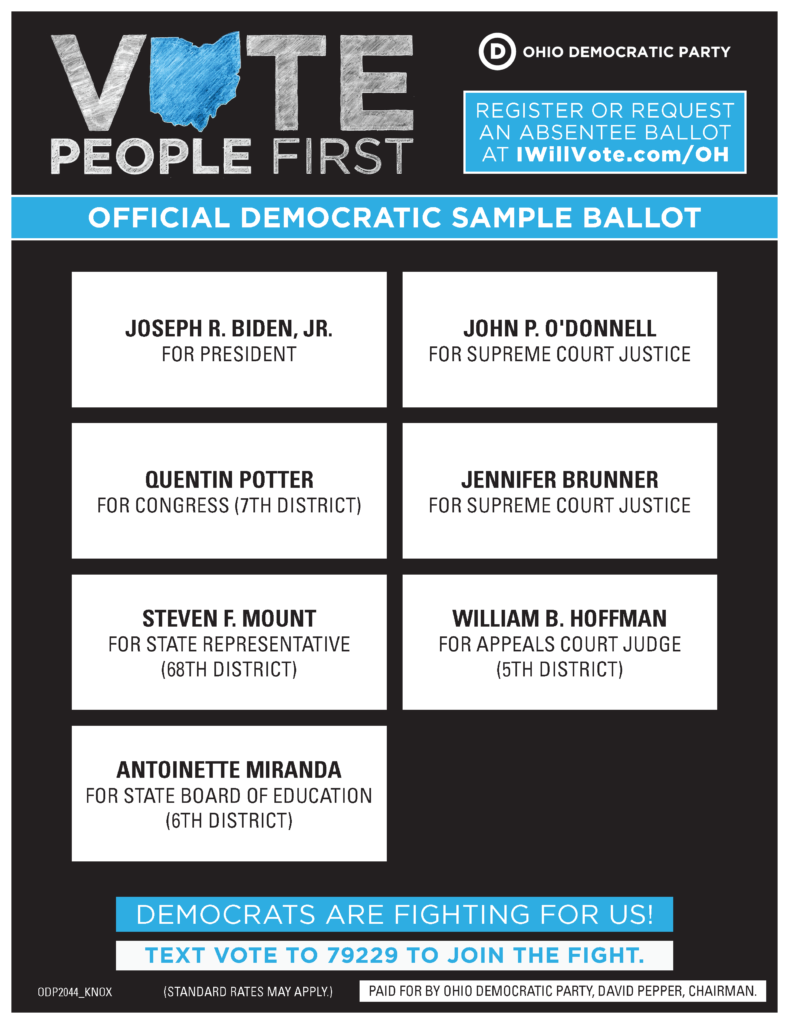 Democratic Accomplishments
—History of prominent achievements
–Some of the Benefits and Programs Brought to You by the Democratic Party:
19th Amendment – Women's Right to Vote.
Apollo 11 – First manned moon mission.
Social Security – Social Insurance Program.
Medicare – Health insurance for seniors.
NATO – North Atlantic Treaty Organization, a political and military alliance between the US, Canada and Europe.
Medicaid – Health program for low income people.
Securities and Exchange Act Law – governing the secondary trading of securities.
Rural Electrification Act – Federal loans for the installation of electricity to serve rural areas.
Peace Corps – American volunteers promoting peace and friendship around the world.Unemployment Benefits – Payment to the unemployed.
Fair Labor Standards Act – End of child labor.
Servicemen's Readjustment Act – Benefits for Returning GIs, The GI Bill.
Federal Home Loan Program – Allows lower income Americans to borrow money for the purchase of a home.National Industrial Recovery Act – 8 hour day, minimum wage, paid overtime and right to collective bargaining
National School Lunch Act – Free or low cost meals for children.
Voting Rights Act – Prohibits voting discrimination.National Foundation for Infantile Paralysis – Forerunner of the March of Dimes.
Head Start Program – Comprehensive services for low income families.
Civil Rights Act – Prohibits discrimination.
Marshall Plan European Recovery Act – post WWII rebuilding of Europe.
Financial Aid for Higher Education Loans – Guaranteed student loan.Family and Medical Leave Act – Provide employees job protected unpaid leave for qualified medical and family reasons.
Lilly Ledbetter Fair Pay Act – Overrode the Supreme Court's limitation of employee rights.
Patient Protection and Affordable Care Act – Health care reform.

You've got questions? We've got answers.
This is your guide for Voting info.
Go to Menu item Signs and Such for picking up Biden/Harris signs.
___________________________________________________



Knox County Board of Elections
104 East Sugar St.
Mount Vernon, OH 43050
I am interested in early in-person voting. How do I do that? 
I am hearing a lot about absentee voting. What is that? 
I am interested in absentee voting. How do I do that?    
STEPS TO REQUEST AND VOTE AN ABSENTEE BALLOT

Register to vote with your cell phone
* IT'S SIMPLE — USE YOUR CELL PHONE TO REGISTER TO VOTE !!
* Search for: olvr.ohiosos.gov . . . . [FYI: this is the shortest route to the correct screen/page]
* Requirement: either an Ohio driver's license, or state ID and Social Security Number (last 4 digits)